Q&A with art student Kora Empey 
Kora Empey is a KDFN Citizen studying photography at OCAD U (Ontario College of Art & Design University). This summer, River Gatensby got the chance to ask her some questions about her education and her art.
By River Gatensby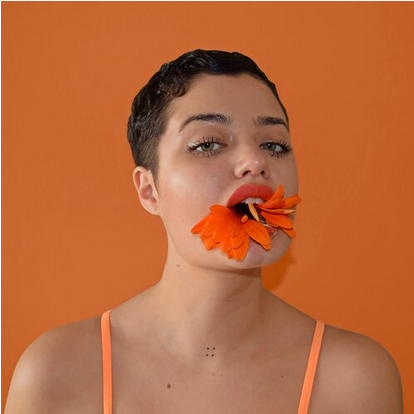 Q: Can you tell me a bit about yourself?
A: My name is Kora Empey, she/her, from Calgary, Albera. I am a KDFN Citizen. 
Q: What kind of art do you make?
A: Photography and mixed media
Q: Can you tell me about your education journey?
A: I have a BBA (Bachelor of Business Administration) in marketing from Mount Royal University. I interned with a New York fashion designer. After doing social media for start-ups, I realised I had more of a vision than just creating ads for people to consume and buy products. I decided to pursue photography and created a portfolio to get into OCAD U in Toronto.
I wanted to learn more about myself, my heritage, and my family. I wanted  to create things that resonate with others, not just push them to consume products in a world where we are bombarded by advertisements. 
I hope to find new ways to connect to the world and the communities around me through art.
Q: Where did the inspiration for your piece, Real Indian come from?
A: "Real Indian" was created in response to the recent amendments to the Indian Act, which sought to remove sex-based inequalities that disadvantaged Indigenous women. These revisions granted me along with thousands of other Canadians, their certificate of Indian status. At age 20 I became a "Real Indian" in the eyes of the government. 
The text is made using thermal sensitive pigments that invite the viewer to touch the words and watch them disappear beneath their hands. 
Real Indian reflects upon the voices and identities that have been erased throughout history due to the Indian Act and the historic giving and taking of status by the Canadian government.
Q: Where do you go next? 
A: I have one year left to get my Bachelor of Fine Arts at OCAD U and work on my thesis. I plan on applying to artist residencies to expand my reach and share my stories with others around the world. I hope to make some commercial work in the coming months.
Find out more about Kora's work at www.koraempey.com.
Are you thinking about post-secondary education? Apply for support through KDFN's Post-Secondary Education Program! Learn more at www.kwanlindun.com/education/post-secondary-students