KDFN Citizen Anne Spice is a tattoo artist, a professor, and now, she has her PhD
Anne hopes to bring Indigenous knowledge to the forefront of education.
By Dylan MacNeil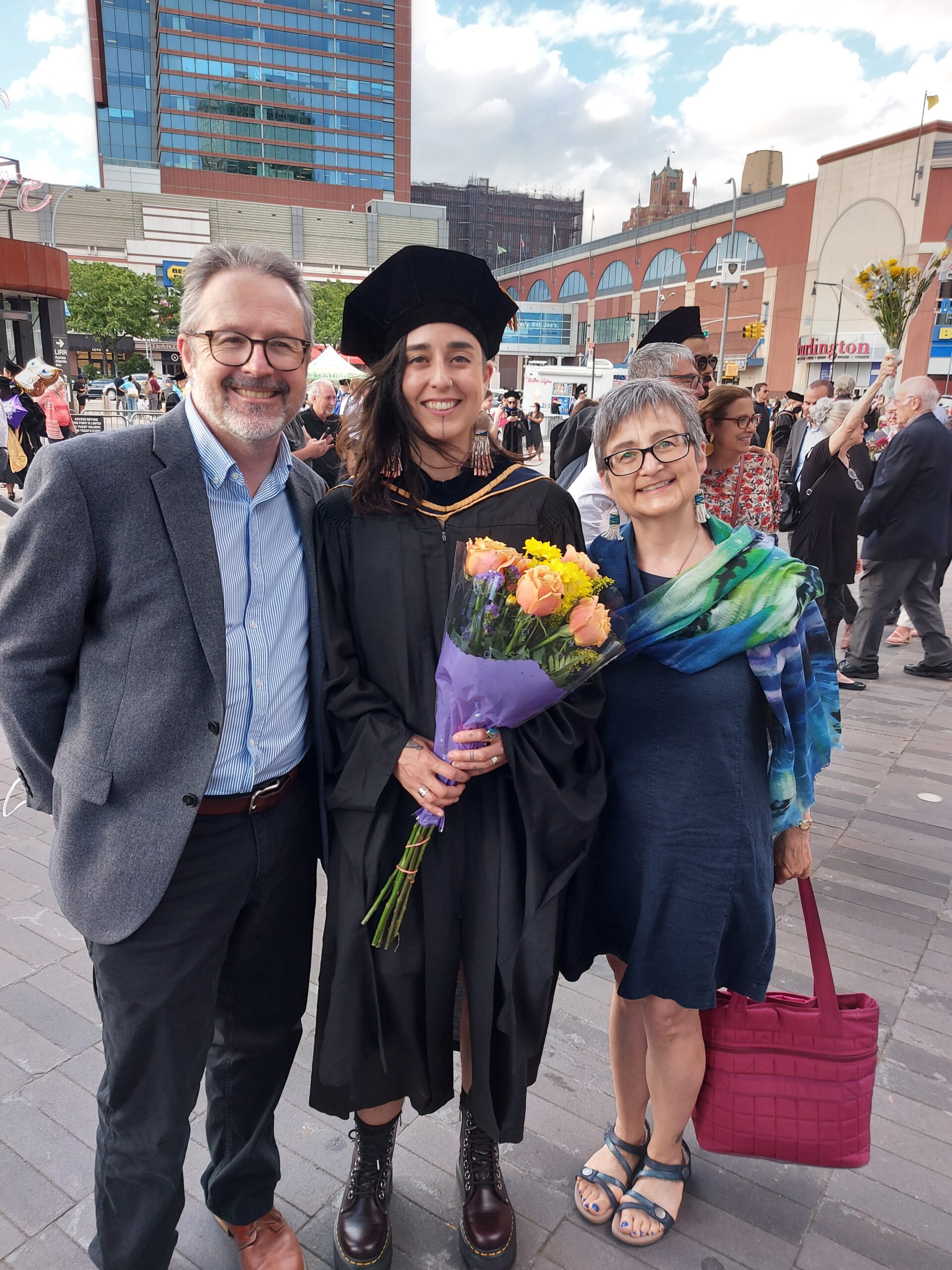 KDFN Citizen Dr. Anne Spice's post-secondary education journey has been a long one. Now, she has a PhD in Anthropology from City University New York Graduate Center to show for it.
Anne previously received her undergrad and masters. Her PhD was nearly a decade of work – starting in 2013. She says her passion for education kept her going.  
"Honestly, I can't really remember what spurred me to do it in the first place but I've always loved school," says Anne.
While working on her PhD, Anne wrote the 200-page dissertation, "Everything to Lose: Extraction, Racism and Survival on Wet'suwet'en Land."
"It's about resistance to resource extraction and Indigenous land defence and the work Wet'suwet'en people have been doing for generations to protect their territories and what they come up against when it comes to industry, government, and these multiple incursions on their territory," says Anne.
"It's a big piece of work," she adds.
Anne says Indigenous knowledge is underrepresented in the education system. It was only when she started their PhD that she found classes taught by Indigenous professors and from Indigenous perspectives.
According to Anne, the lack of Indigenous views is especially apparent in anthropology, the study of human cultures and societies. 
"I didn't have a lot of models for how to do research from an Indigenous perspective," she says.
"Anthropology doesn't have a very good history when it comes to Indigenous people. There's a lot of parachuting into communities and extracting a bunch of stories and knowledge and then never coming back, or using that knowledge to actually harm the people that anthropologists have been working with," she adds. 
"It's a difficult discipline to try and work within as an Indigenous person but I had some powerful mentors who were doing the work and people I was able to learn from and then I kind of just did my own thing," Anne continues.
Anne grew up in Southern Alberta and likes to spend summers in the Yukon. She currently lives in Ontario, where she works as an Assistant Professor of Indigenous Knowledges in the Geography and Environmental Studies Department at Toronto Metropolitan University (TMU).
She teaches a number of courses, including a geography class they built from scratch about colonial infrastructure in North America.
"We look at highways and pipelines and dams and all of the different ways that colonialism and colonial governance can impact people through the built environment," says Anne. 
She hopes to help bring Indigenous knowledge to the forefront of education.
"I want it to be easier for Indigenous students to get the support that they need, which also means supporting different kinds of research, which I think in a lot of ways and for a long time, have been seen as less legitimate or less scientific. Telling stories from Indigenous perspectives and really viewing that as powerful research and meaningful research is really important," says Anne.
"If I can be there to provide some guidance for people who are going through it or give pep talks to people who are struggling, I think that is definitely my goal," adds Anne.
As for Indigenous students just setting foot on the path to higher education, Anne says they need to be appreciated.
"They have a powerful voice and powerful stories and they deserve to be respected. They should seek out people who will respect their own journey," she says.
"Don't give up," she encourages.
When she's not spending time researching and teaching, Anne does traditional hand-poked tattoos. Her work is inspired by Tlingit basketry and geometric patterns and she's most drawn to simple line work, cuffs, armbands, hand, and face tattoos.
This past summer, Anne spent a few weeks tattooing as part of the annual Shakaat Artist Residency hosted by the Kwanlin Dün Cultural Centre.
Now that she's officially a doctor, Anne has her sights set on turning her dissertation into a book and this fall, she's piloting a class at TMU called "An Indigenous Guide to the Apocalypse."
"It will be looking at Indigenous survival stories and responses to colonialism, but then also the current moment we are in with climate change and how we can respond as a community and as a collective to adapt and continue to survive," says Anne.
Are you thinking about post-secondary education? Apply for support through KDFN's Post-Secondary Education Program! Learn more at www.kwanlindun.com/education/post-secondary-students