Nàkwäye k'e kekwänìdlį̀. We have fun!
This past spring and summer, Youth Rec paddled, snorkeled, and went to Moosehide Gathering!
KDFN Youth Recreation is celebrating the many wonderful experiences we've had with youth and community this season! 
Youth enjoyed programs such as making their own graduation vest and shawls, learning how to snorkel, making drums, and going to the Moosehide Gathering!
We were excited to launch several new camps this spring and summer such as: Intro to Moving Water Paddling Camp, Snorkel Camp, attending Moosehide Gathering, Basketball Camp, and returning to past favourites such as S.T.E.M. Camp (Science, Technology, Engineering and Math).
In partnership with KDFN Education, Recreation began it's first graduation vest and shawl program with great success and many colourful, creative designs.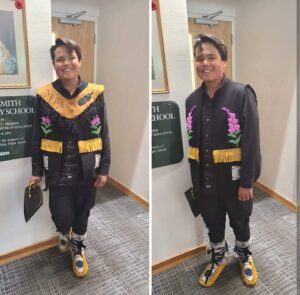 We enjoyed day trips to Carcross and Long Ago People's Place, made skateboards (and learned some tricks!), made traditional drums, took swimming lessons, went rock climbing, canoeing, learned bicycle maintenance, hair styling and aesthetics and visited the salmon sonar site, to name a few!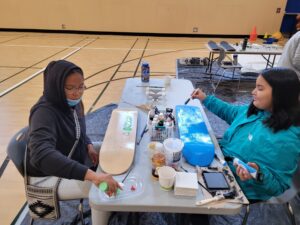 We'd like to send a special shä̀w níthän, gùnáłchîsh, mähsi'cho, and thank you to all of our staff and partners who made these experiences possible: the RCMP, Yukon Canoe and Kayak Club, Yukon University, Skills Canada, The Yukon Youth Conservation Corps, Youth Achievement Center, Yukon Scuba, The Tr'ondëk Hwëch'in Youth Centre, and all of the incredible staff at KDFN.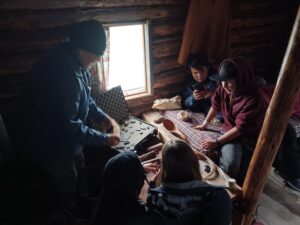 What is Rec up to this fall? 
Join us for after school fun and games at the Multipurpose Building (MPB), Tuesday through Friday from 3:15 p.m. to 5:15 p.m. for youth ages 6-12, and from 6 p.m. to 7 p.m. for youth ages 13+. 
We look forward to resuming swimming lessons for youth ages 6 to 10, and for the start of a new music program on Tuesdays and Thursdays from 3:30 p.m. to 6:30 p.m. at the MPB.
Questions? We'd love to hear from you! Give us a call at 867-332-3060.