Meet the Members!
KDFN's RCMP team and Justice team work closely together to support community safety and connections.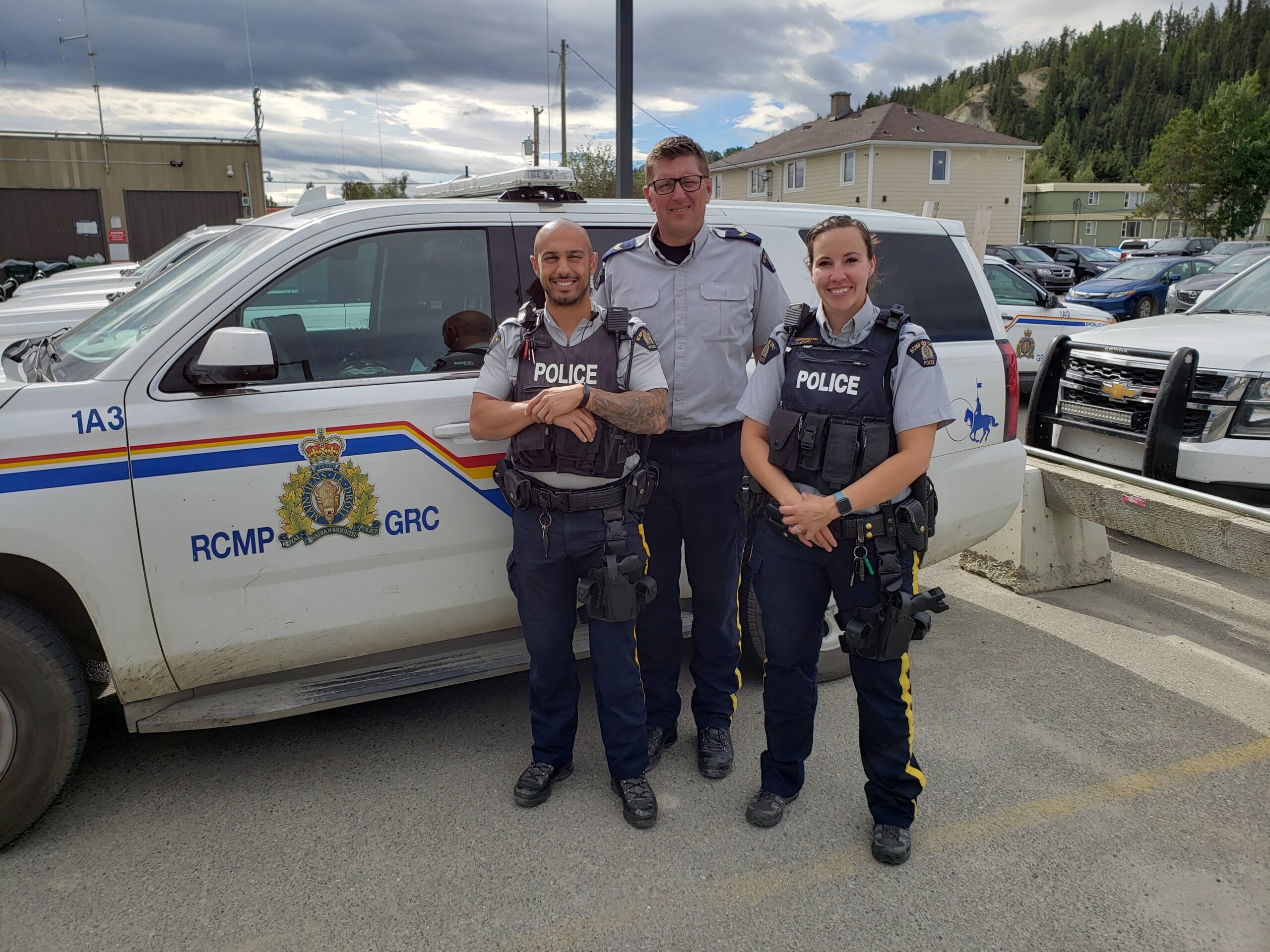 There are three RCMP members stationed in the KDFN community. The members have offices in the new Kashgêk' building. They are available to provide support and assistance to KDFN citizens. 
The KDFN RCMP team works with Community Safety Officers to ensure the safety and wellbeing of the community. They also work closely with our Justice team to provide restorative justice alternatives to Citizens and engage in recreational and on-the-land opportunities with KDFN youth and community. This includes moose hunts, basketball camps, STEM camps, skiing and sledding, canoeing, community bingo, and barbeques! 
Cst. Rimanelli
My name is Marcello Rimanelli. I was born in Montreal, Quebec and have lived most of my life in Terrebonne, Quebec (20km North of Montreal). I'm a third generation Italian/Canadian. My grandparents immigrated to Canada from Italy in the 1960s. I grew up in a variety of different cultures and ethnicities, which is one of the reasons I chose to live and work in Whitehorse.
I've been living in Whitehorse for two years now, and I've been working as a police officer with KDFN for more than a year. I've been a police officer for the RCMP for five years. Before being a police officer, I was in the supply chain/analytics sector for about two years.
I feel as though I have learned so much about First Nations culture and continue to embrace the teachings and traditions. I hope to learn more and share my experience as a way to influence others to do the same!
Cpl. Lightfoot
My name is Adam Lightfoot and I am so proud to be the Corporal and team leader on the KDFN RCMP team. I have been with the RCMP for 15 years and started my career at the Whitehorse Detachment before serving in Ross River, Watson Lake, and on the Federal Investigations Unit. I'm also a member of the Explosive Disposal Team, you may remember when I brought the bomb truck up to KDFN for the day. You may also know me from flipping burgers at the Elders Celebration lunch or at KDFN Fun Day, or coaching hockey across the territory.
I grew up in Nova Scotia, but consider the Yukon my home. I enjoy hunting, hockey, fishing and have a wife and two boys that you occasionally will see with me at KDFN events. I am so proud to be included in the KDFN community.
Cst. Gregorash 
My name is Erin Gregorash and I am KDFN's newest RCMP officer. I've been with the RCMP for 9 years, working in Watson Lake, Old Crow, Kugaaruk (Nunavut), and Whitehorse. 
I was born in British Columbia but consider Yukon my home. I enjoy anything outdoors, especially hiking and camping. In the winter time I love to drink tea and sew. I'm looking forward to finding new beading friends!  My favourite pastime is coaching girls volleyball and I hope to find some enthusiastic KDFN athletes to continue this!
Contact the KDFN RCMP team at 867-633-7800, ext 601.