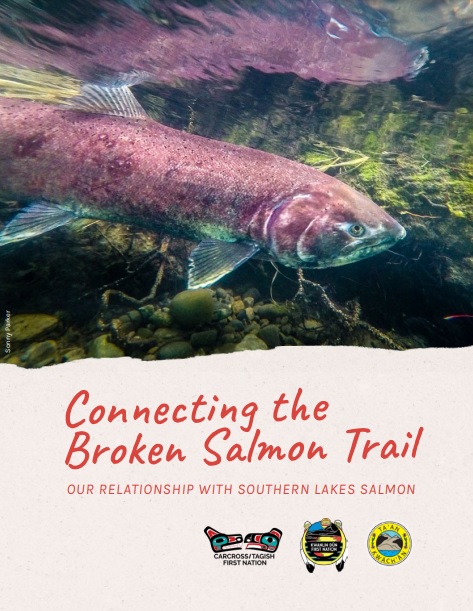 The Carcross/Tagish First Nation (C/TFN), the Ta'an Kwäch'än Council (TKC), and the Kwanlin Dün First Nation (KDFN) are pleased to co-release "Connecting the Broken Salmon Trail: Our Relationship with Southern Lakes Salmon". This plan aims to restore and prioritize the critical role of salmon in the cultures, languages, landscapes, and laws of the three self-governing First Nations.
"Connecting the Broken Salmon Trail" is not a technical plan, harvest management plan, nor political document. It brings together the TKC, KDFN, and C/TFN, and as salmon people. It acknowledges the vital role that salmon play in family connections through fish camps, cultural knowledge transfer, and ceremonial practices. And the plan recognizes the significant historical and ongoing cultural impacts and losses that have affected salmon and the people involved.
At the heart of this initiative is a commitment to upholding the traditional laws of SHARING, CARING, RESPECT, and TEACHING. Both traditional knowledge and Western science will guide the shared vision and strategy for salmon stewardship in the three First Nations' traditional territories.
"Connecting the Broken Salmon Trail" was developed over three years with guidance from respected Elders and citizens. It was funded by the Yukon River Panel's Restoration and Enhancement Fund.
The three First Nation Governments are currently working on a complementary Implementation Plan that includes initiatives and resources to support salmon.
Read the plan here.