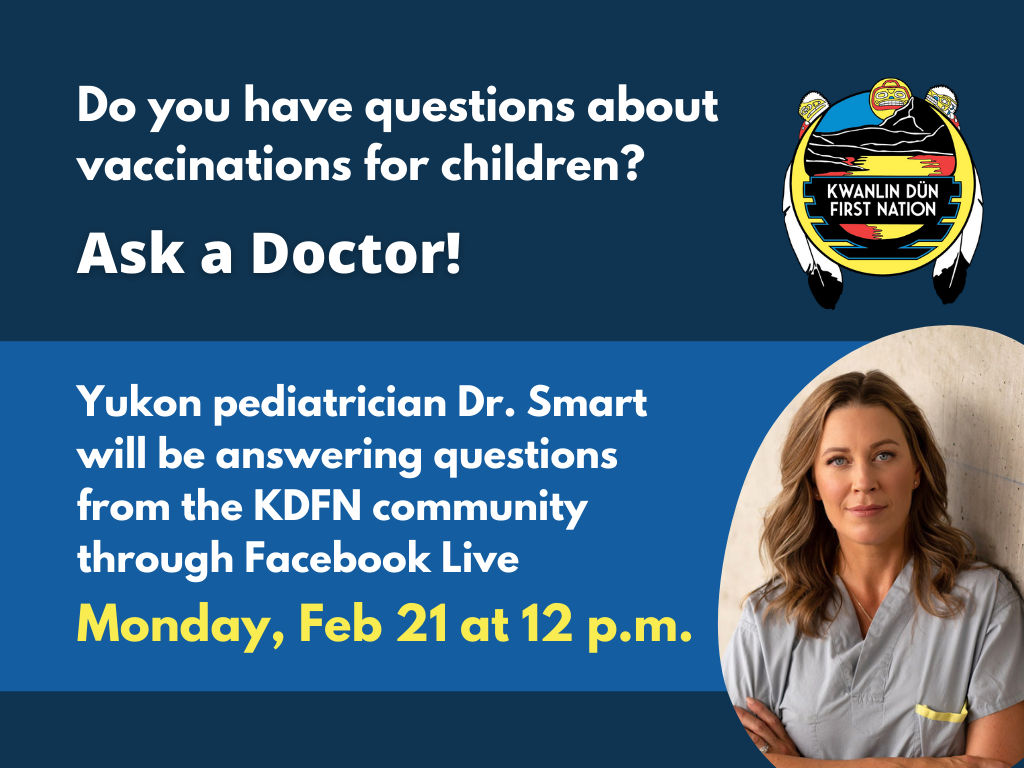 KDFN parents and caregivers,
Do you have questions about vaccinations for your children? Ask a doctor directly!
Yukon pediatrician Dr. Katharine Smart will be answering questions from the KDFN community through Facebook Live.
📍 Join us Monday, February 21 at noon (12 p.m.) on the KDFN Facebook page
Let us know you're coming and submit a question in advance by emailing communications@kdfn.net
Come to the session and we'll enter you in a draw to win:
A Family membership to the Canada Games Centre for one year ($1,100) Good for 2 adults and up to 5 kids
A chainsaw – ($700)
A $150 Gift Card to a local Salon
We'll see you there!
ABOUT DR. KATHARINE SMART, president of the Canadian Medical Association:
Dr. Katharine Smart is a pediatrician in Whitehorse, Yukon. Her work is centred on developing collaborative partnerships with community and government services to serve marginalized children using a model of social pediatrics. She works primarily with children who have experienced trauma and adverse childhood events, and she witnesses the broad and lasting impact these events have on children and their development daily. She is passionate about improving services for marginalized children in an effort to change their life trajectory.
In addition to her community-based work, Dr. Smart enjoys acute care and provides on-call services to the hospital. Before moving to the Yukon, she was a pediatric emergency medicine physician at the Alberta Children's Hospital in Calgary. Dr. Smart is the past president of the Yukon Medical Association. (https://www.cma.ca/dr-katharine-smart-president-2021-22)