On Wednesday May 17, Kwanlin Dün received a Community Safety Award for Outstanding Program from the Government of Yukon. Chief Bill delivered a speech about the Kwanlin Dün Community Safety Initiative and Elias Park, Community Safety and Security Development Officer accepted the award on behalf of Kwanlin Dün Department of Justice.
Thanks to Health, Community Services, all government departments and citizens for your involvement and contributions toward the broad Community Safety Initiative. This summer, the Community Safety Officers will be on the beat improving citizens safety and security.
Congratulations to all award recipients; your work is making Yukon a safer, more secure and more tolerant community.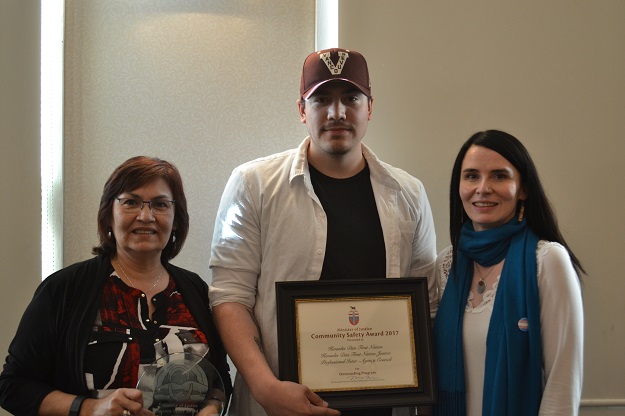 Chief Doris Bill, Community Safety and Security Development Officer, Elias Park, and MLA of the Mountain View District and Minister Responsible for the Women's Directorate Jeanie Dendys.