Kwanlin Dün First Nation Community Safety Officer and Land Steward Program is now operational. The Community Safety Officers (CSOs) and Land Steward have completed five-weeks of training and received an Associate Certificate in Community Safety. Two Community Safety Officers and one Land Steward have been hired and will be active, visible and involved in the Kwanlin Dün community.
The CSOs and Land Steward DO NOT carry weapons and will patrol in partnership with external enforcement officers such as RCMP, Bylaw, conservation and environmental protection officers. The Community Safety Officer's role is to support the day-to-day safety of citizens and to build and maintain trust and a positive relationship with citizens and external partners.
The Land Steward will monitor the Kwanlin Dün Traditional Territory. They will educate citizens and visitors on the appropriate use of and respect for the land.

"The security and safety of our community is a priority for our citizens and Kwanlin Dün leadership. We know the implementation of the Kwanlin Dün Community Safety Initiative is the way forward and the Community Safety Officers program is central to moving forward…" – Chief Doris Bill
ALWAYS CALL 9-1-1- IN EMERGENCY SITUATIONS
For non-emergency incidents the Community Safety Officers and Land Steward can be reached at (867) 332-9551.
Additional background information about the Community Safety Officer Program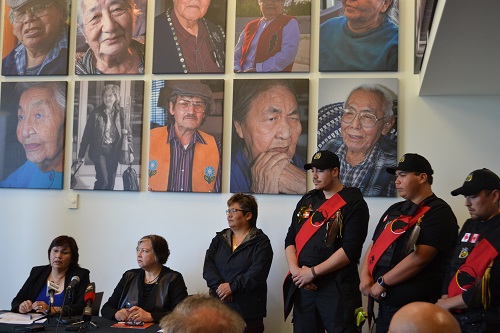 L-R: Chief Doris Bill, Minister Tracy-AnneMcPhee, Acting Director of Justice Gina Nagano, Community Safety Officer and Team Leader Elias Park, Community Safety Officer Jesse Ryder, Land Steward Tyler O'Brien.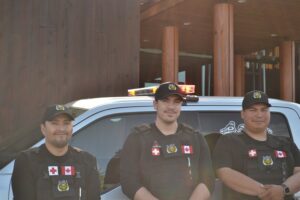 L-R: Community Safety Officer Jesse Ryder, Community Safety Officer & Team Leader Elias Park, and Land Steward Tyler O'Brien.