From early 2020 to March 2021, five KDFN citizens

learned basic skills in carpentry, electrical and

plumbing by actually working on a KDFN home,

located at 11 Hanna Road.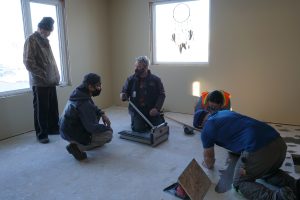 The Housing Maintainer Program is designed to teach students how to do repairs on their own homes, and also give them skills and confidence that can help with finding employment in the future.
Student Roshanna Smith says she learned a lot about self-sufficiency through the program.
"If somebody tells me to 'do this', I can do it on my own now," says Roshanna. "Working with new tools was pretty cool. They show you what to do and what not to do, and you really have to pay attention."
Through the program, instructors Axel Kaiser and Keith MacPherson taught participants how to restore a house, piece by piece.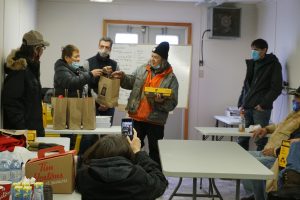 They also learned other things. For example, every morning, students started their day with Yukon University's Math 030 course, taught by Math Instructor, Brian Stevens, and supported by Math Tutor, Carolyn Simmons.
On March 1, participants celebrated their graduation from the program, and got the chance to tour their families through the newly renovated house.
The program is jointly run by KDFN and Yukon University. It was supported by Yukon government's Post Secondary and Labour Market Program.
Congratulations to all the graduates!
• Roshanna Smith
• Allan Taylor
• Nathan Dawson
• Lawrence Sam
• Theodore (Ted) Huebschwerlen
For more information about programs offered through the Kenädän Kų` House of Learning, visit: https://www.kwanlindun.com/education/