The Yukon government will lift many of its COVID-19 restrictions on Friday, March 18. Some Yukon First Nations, community organizations and businesses will keep additional measures in place for now. This includes KDFN.
Why take a slow approach to lifting safety measures?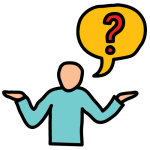 COVID-19 is still spreading widely in the Yukon. KDFN remains in a State of Emergency until at least June 1. Council plans to lift safety measures gradually over time so we can continue to monitor the risk in the Yukon.
Each safety measure is a layer of protection. Having many layers of protection is especially important for vulnerable people in our community, such as Elders and people with weak immune systems.
Council will continue to review these safety measures as the risk of COVID-19 in the Yukon continues to change.
Make an appointment if you need to visit KDFN offices
KDFN's offices remain closed, unless by appointment.

In-person programs are restarting
Watch for announcements!

Masks are required in all KDFN buildings
Wearing a medical mask is an easy way to protect yourself and the people around you from catching and transmitting COVID-19 and other viruses, such as colds and the flu.

Proof of Vaccination (2 doses) is required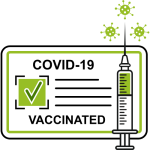 for KDFN employees; and
for citizens, beneficiaries and community members toaccess non-critical programs and services at KDFN.
Proof of Vaccination is required:
This requirement will stay in place for adults 19+. On April 7,Council will review the requirement for youth (under 18)
Find your proof of vaccination at yukon.ca/vaccine-proof
Call the Natsékhi Kų̀ Health Centre if you need help at 867-335-5051.

Rapid testing is encouraged at least twice a week
Test yourself and members of your household often, even if you don't have symptoms. Early detection is the best way to prevent spreading COVID-19. Pick up your FREE tests at the Potlatch House weekdays between 8:30 a.m.and 12 or 1 to 4:15 p.m.

Booster shots are strongly recommended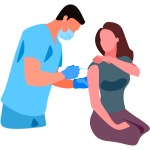 Get a boost! Booster shots have been shown to give you up to 90%protection against having to be hospitalized with Omicron.
Canada's National Committee on Immunizations strongly recommends booster shots for:
-people 50 years of age and older;
-adults in or from First Nations, Métis, and Inuit communities;
and other high risk groups.