KDFN citizen Doronn Fox made drums for Elders in Whitehorse's long-term care homes
By: River Gatensby
For KDFN citizen and beneficiary Doronn Fox, drums are powerful "connectors to our ancestors". They can bring joy, revive memories and reconnect people to their culture.
"The drum is about your heartbeat. It's about being in your mother's womb, and it's about connecting with your ancestors," says Doronn. "When you hit that drum and sing songs you can totally disconnect from the world outside—it's like talking to your ancestors."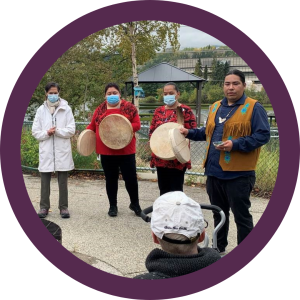 That's why he jumped at the chance to handcraft drums for workers and Elders in Whitehorse's long-term care homes in 2021.
"Some of these Elders don't have their family; they don't have their people or their community," says Doronn. "They want something tangible that is a part of their culture."
The drummaking project began when a friend reached out and asked him to make drums for Copper Ridge Place. Then, the other care homes found out and it grew from there. He ended up making 8 drums—4 handgames drums and 4 ceremonial drums—for each home.
"The care homes also use the drums when Elders and older people pass away, when they're leaving the building or when there's sickness," he says. "You need a ceremonial drum for those things."
In the fall of 2021, Doronn hand-delivered the drums to Copper Ridge Place, the Thompson Centre and Whistle Bend Place with Elder Shirley Adamson. She was there to support him. According to Doronn's teachings, you need opposites in ceremony. In this case, Shirley is from the Wolf Clan and a woman, and Doronn is from the Crow clan and a man. At each spot he explained how to properly handle and care for the drums.
Doronn learned how to make traditional drums from many Elders across Turtle Island (North America). And now, it's important to him to pass on the teachings with every drum he makes.
He is also very proud of his work with youth. Throughout his career, Doronn has dedicated himself to helping communities in need. He spent years travelling to different places in North America with his business Tsalazra, which means baby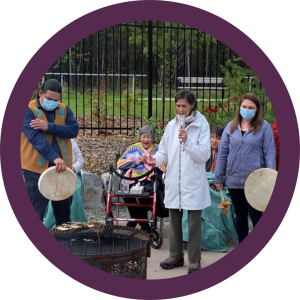 gopher in Northern Tutchone. He helped different
nations suffering with problems, such as "youth in crisis, opioids, alcoholism, uninvolved youth, combating educational divides, remote learning…." as he described.
In late 2019 he closed his business due to his daughter's diagnosis with leukaemia. After a year being in Vancouver with his daughter, he focused his efforts on Yukon-based cultural needs.
Now, he's pleased to see the joy and vitality his drums have brought to a wide range of cultures, with his personal connection to the Yukon.

"The Elders love it," says Doronn. "We get calls all the time from every one of the homes saying the Elders are loving the drums. They ask questions and want to learn more."